J.T. Brown of the Tampa Bay Lightning has become the first NHL player to join NFL players in protest by raising a fist during the national anthem. It happened during the Lightning's game on Saturday, October 9th against the Florida Panthers.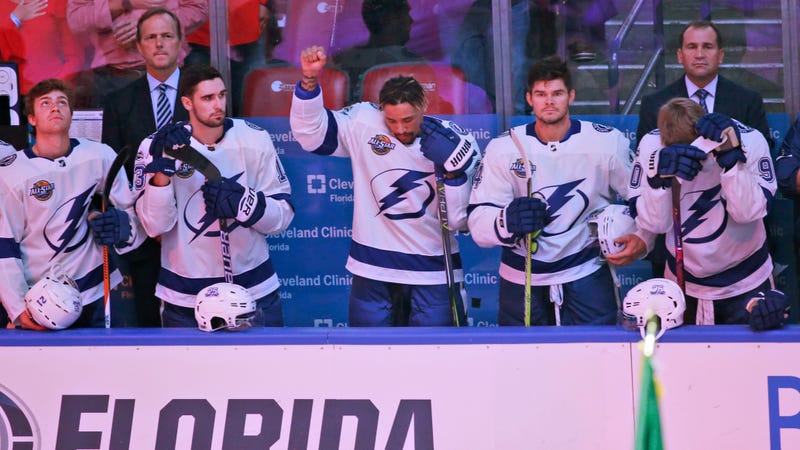 Brown was interviewed after the game saying, "I know there's going to be negative backlash. But, in my heart, I know I did what was right." The amount of backlash he received was incredible. Brown had gotten countless threats and death wishes in regards to his protest, eventually taking to Twitter to put out a statement, making sure the point of his protest stayed true and would not get twisted into something else.
Brown is one of 30 black players in the NHL, while 93 percent of the league is white. So far Devante Smith-Pelly and Joel Ward are the only other players that have made a statement in support of the protests. Smith-Pelly even reached out to Brown after his protest, saying in an interview with The Tampa Bay Times, "I'm proud of him, proud that he did that and proud that he stood up and put himself out there," Smith Pelly said. "Because it's tough. It's tough anytime, but in this particular sport, it's tough to put yourself out there." He continued by saying, "It's a lonely feeling, even without doing a protest. So, that he stood out and put himself out there, I respect it a lot."
Professional athletes have taken a stand against the racism black Americans face in America, starting last year with Colin Kaepernick. Since then, multiple NFL players have started to kneel during the national anthem. But the NHL is in a risky spot. They came out with a statement about staying apolitical, but that doesn't seem to be the case. Gary Bettman made a statement last year that, "when the game is getting played, it should be about the game." This didn't seem to be the case when the Penguins decided to go to the White House after Donald Trump attacked Steph Curry on Twitter. So what's the truth, Gary?
Brown has the right to silently protest during the anthem just as every other American has that right, even if he is a professional athlete. He's using his platform to bring awareness to something that has been ignored for a long time in this country. I personally hope that more players will come out to support Brown and begin to protest as well, whatever their skin color is. I'd also like to make it abundantly clear that I support J.T. Brown and his stance and hope that more people will do so, too.