On Friday, December 15th, Team Canada made its final cuts to its 2018 World Junior Championship roster, setting the final lineup for their team in the tournament. Among the latter, more unexpected cuts were Logan Stanley, Cody Glass, and Nick Suzuki. All of these players are just 18 years old, with the exception of Logan Stanley, who is 19. In addition, Suzuki and Glass are first-round draft picks from the 2017 draft class. While the roster is packed with talent, ranging from players in the QMJHL to the early stages of the NHL, as fans, we are left to wonder; why were these promising prospects cut from the team?
For reference, Team Canada's official roster for the 2018 World Junior Championship can be found here.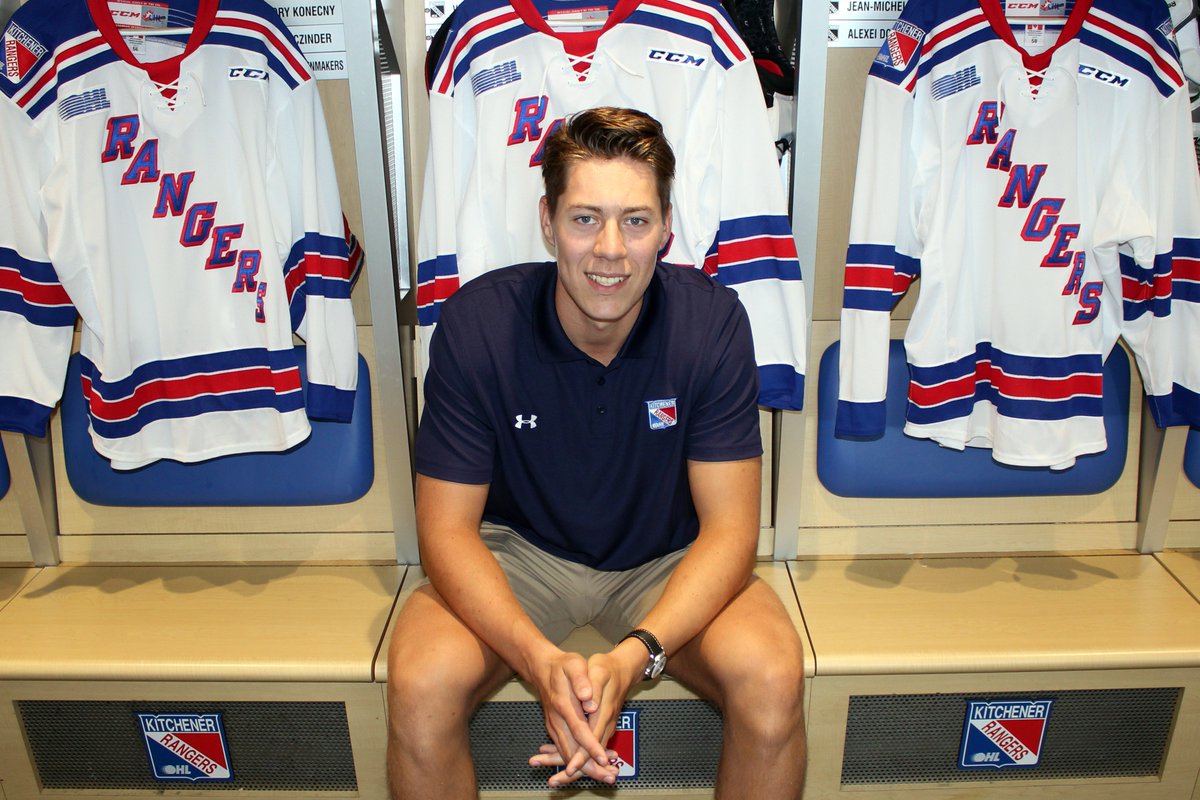 Logan Stanley
19-year-old Logan Stanley was one of the more surprising cuts by Team Canada this past week. He was drafted 18th in the first round (18th overall) of the 2016 NHL Entry Draft by the Winnipeg Jets. Although he missed most of last season, his first goal after returning from injury propelled his Windsor Spitfires (OHL) to winning the Memorial Cup.
Why should he have made the team?  
Stanley is best known for being a great defensive defenseman, as well as a total pest to play against. His huge 6'7" frame and ability to chip in points alongside a well-improved defensive game make him an opponent that no player wants to face. He has been playing for the Kitchener Rangers of the OHL after a trade this past August, serving as an alternate captain. Through 31 games played so far, he has 25 points (seven goals and 18 assists). This is an amazing pace to be on, especially for a defenseman.
Why was he cut and how can he improve?
The defenseman's main issue is getting into penalty trouble. For Kitchener this season, he is averaging about two PIM per game so far. In addition, he's not the fastest skater, and that comes back to haunt him when playing against speedier teams. He missed a huge portion of last year due to an injury, so a key to making the team next year would be staying healthy. He has already gotten better offensively this year, reaching junior career highs in goals and points already. Avoiding getting hurt and staying on a steady points pace could help him next year, especially since he will be older than the age requirement for World Juniors and possibly vying for a spot on the NHL team.
(Photo via David Banks; USA TODAY Sports)
Cody Glass
18-year-old Cody Glass will be a name to remember for years to come, regardless of future NHL success. He was the first ever draft pick in Vegas Golden Knights history, being taken sixth in the first round (sixth overall) in the 2017 NHL Entry Draft. He thrived in the WHL last year and is set to have another great season this year.
Why should he have made the team?
Glass is a talented puck-mover with a high hockey I.Q. who has recently started to come into his own as a player. He's good at making on-the-spot decisions and learns quickly from his mistakes. In addition to being appealing to hockey fans, he plays a high-energy, fun-to-watch game that anyone can appreciate, not just fans of the sport.
Why was he cut and how can he improve?
Unlike Logan Stanley, Cody Glass is only 18 and is eligible for World Juniors next year. In order to make the team next year, he will have to work even harder to make his presence felt during games. He is off to a great start but will have to be faster, more physical, and more assertive to earn a spot on the team. As he gets older and his play matures, it will be easier for him to elevate his game. However, Glass is already turning heads for the Portland Winterhawks of the WHL with 50 points (20 goals and 30 assists) in 31 games.
(Photo via Richard Brian; Las Vegas Review-Journal)
Nick Suzuki
Perhaps one of the more shocking cuts made by Team Canada, 18-year-old Nick Suzuki was one of the five final players that left the squad this past week. Selected by the Vegas Golden Knights 13th in the first round (13th overall) in the 2017 NHL Entry Draft, there is a ton of hype surrounding him, and deservedly so. He has had a phenomenal season in the OHL this past year for the Owen Sound Attack, and it looks like his success will only continue.
Why should he have made the team?
Suzuki has had a great OHL career thus far, putting up 96 points (45 goals and 51 assists) in 65 games last season and 44 points (27 goals and 17 assists) in 26 games so far this season. He's averaging almost two points per game, an absolutely incredible pace to be on. In addition to his scoring prowess, Suzuki specializes in speed and is great at shooting and passing. His level of work ethic is hard to come by and would be valuable to any group.
Why was he cut and how can he improve?
One of the downsides of Suzuki is his size. He's 5'11", which definitely isn't short, but he's usually not the biggest player on the ice, and by a significant margin. The forward's hard work often makes up for that, but size is just something that you can't teach. But, soon enough, people will stop talking about his height and weight and the focus will completely be on his skills, as it should be. Another amazing season in the OHL could be just what he needs to crack the WJC roster next year since he will still be eligible. In the future, there is definitely a possibility that we could see him as a member of the NHL's Vegas Golden Knights with Cody Glass.
Do you think these three players should have been cut from Team Canada's World Junior Championship roster? Share your thoughts by tweeting us @PuckItUpBlog
Twitter: @nhljennifer
Tumblr: @jdmwriting